Private Voice & Piano Lessons
with Michelle Moyer 
Whether it's your first lesson or you're revisiting a long-loved skill, private voice and piano lessons put you in a safe 
one-on-one learning environment. Music is a language – and like any language, there are many basics which must be 
mastered prior to advancing to more complex applications.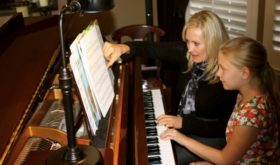 During a course of study, I cover all areas of musicianship: theory, technique, formal analysis, ear-training, sight-reading, performance, and a comprehensive study of musical literature in a progressive fashion. I truly feel that a well-rounded musical education helps students define for themselves what music means to them.
Please bear in mind that no two students are exactly alike, and children (as well as adults) learn at different rates of speed. Even brothers and sisters within families differ in motivation and temperament. Therefore, I approach students as individuals and 
attempt to challenge each according to their own unique potential.